Google Takeout Not Working? Fix it or Use an Alternative
If you have landed on this page, it means you are also facing the "Google Takeout Not Working" issue.
User Query: A few days back my senior asked me to create a backup of data of 3 employees and I decided to use Google Takeout for it. After a few hours of efforts just when the backup was about to complete, due to power outage, it stopped working. When it was retrieved I was shocked to see that I have to perform the entire process again. Please, can someone suggest an alternative to it?
Google Takeout has been provided by Google for backup purposes but there are times when users might see a "Google Takeout Not Working" error.
This becomes an inconvenience for the users and there is nothing that they can do in such a situation but perform the process again.
This article has brought such a solution to solve this and various other troubles and issues users may face while using Google Takeout. This alternative is an expert-recommended solution that makes the process easy and quick.
The best part? It doesn't require you to perform the entire process again in case of outage or connectivity disruption.
A few other queries that show similar issues faced by people
1. Incomplete Archive

2. Download Failed

3. Network Error

What is Google Takeout and What to do in the "Google Takeout Not Working" Situation?
Google Takeout is a free data extraction tool that compiles all of your current Google data into a single file that can be downloaded later.
Items from Gmail such as Emails, Contacts, Calendars, Google Keep Notes, and also Photos, Hangouts, and Google Search History are downloaded using Google Takeout.
While performing the task of creating a backup via Google Takeout, you should make sure you are following the right steps.
What is the Process of Archiving Using Google Takeout?
To avoid errors like "Google Takeout Not Working", follow the correct steps as given below:
Step 1: Visit the Google Takeout page and enter your Google Account credentials

Step 2: Choose the "Data and Personalization" option, then press Download Data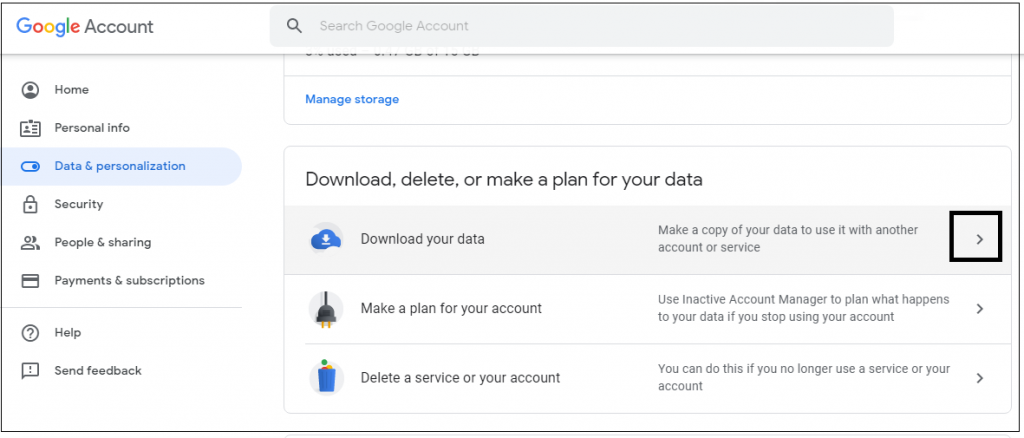 Step 3: All the checkboxes are selected here, to deselect them, press the Deselect All tab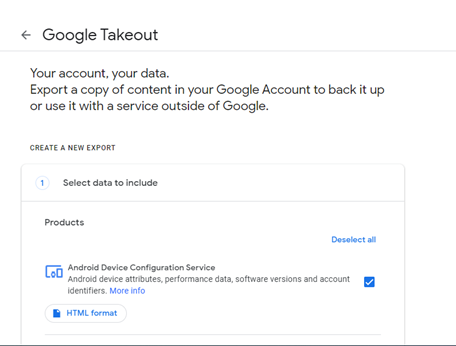 Step 4: Mark the checkbox beside the Mail option or the folder whose backup you want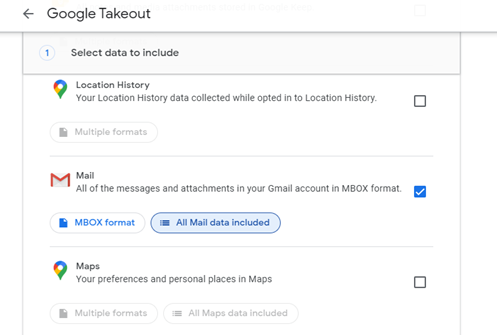 Step 5: Choose the file type, file size, and destination here and hit the Create Export button to not fall under the "Google Takeout Not Working" situation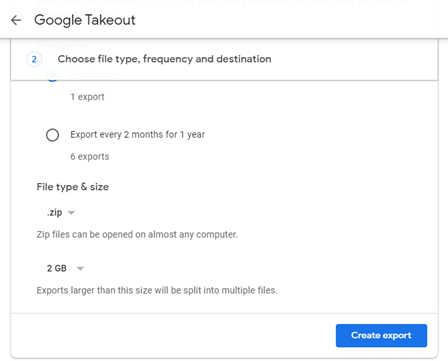 Step 6: Then, to begin the downloading process, press the Create Archive tab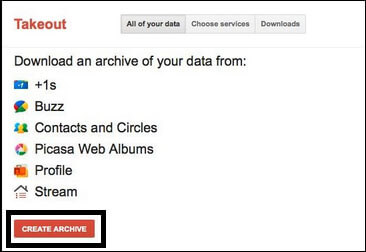 Step 7: When the download starts, the user can check the status of the download on the screen
Step 8: After the downloading is finished, press the Save button to store Gmail emails at the required destination.
The file that is downloaded containing the data will be a .zip file which you can extract and get an MBOX file. Open this file with a compatible email client to access the emails and their attachments.
Is Google Takeout a Good Backup Option? Why "Google Takeout Not Working" Error Show?
NO! It most certainly is not if there are a huge number of emails you need to download.
Why? A few of the drawbacks are described below:
You cannot download files owned by anyone else using Google Takeout.
Folders shared with you in Drive cannot be exported using Google Takeout, even though they contain files generated by you.
Google Takeout has a daily limit of two to three archives and a maximum of seven per week.
If a huge number of emails are tried to export, the "Google Takeout Not Working" error sometimes comes up after the entire process.
Even with the.tgz format, the daily download cap for an archive is 50 GB/day.
When exporting large files or folders, you can experience unfinished downloads.
If internet access is disabled, the transfer will halt and cannot be resumed. You'll have to start it from scratch.
A Software Solution Devoid of All the Constraints
The aforementioned disadvantages make it difficult for users to opt for Google Takeout.
Thus, to not fall into the "Google Takeout Not Working" scenario, users can go for a complete backup solution: Free Gmail Backup Wizard to create a backup.
A few of the advantages of the tool that prove why it should be considered:
It is a utility whose function is to export data in bulk from multiple users' accounts to designated locations all at once.
It takes backup of all the data including – emails, contacts, calendar events, and documents.
Moreover, it offers the export of data in various file formats like Outlook PST, MBOX, EML, MSG, and PDF.
"Google Takeout Not Working" situations do not have the "Pause and Resume" option, unlike this tool to stop or restart the backup process at convenience.
The Date Filter feature enables the user to apply a specific time range within which he wants the data to be exported.
You can choose the folders or the categories you want to export using this software in the Category filter.
The folder hierarchy and data integrity are kept intact without any modifications being made.
Working Steps of Alternative Tool to Overcome "Google Takeout Not Working" Error
Step 1: Launch the tool and enter your credentials in the software and hit Login to start the backup process
Note: The Mac OS users can download the tool from here:
Step 2: Under the "Select Category" option, choose Email, Calendar, Contacts, Documents, whose backup you want to create
Step 3: Similarly, under "Select Email Format", choose the file format in which you want your downloaded file
Step 4: Browse the Destination path, where you want to store the located files
Step 5: Click on "Apply Filter" to make use of different features available in the tool
Step 6: Hit the Start button to start the process.
Concluding Words
Users generally receive the error message "Google Takeout Not Working". This can be seen because of many different reasons like file size limit or multiple files.
Google Takeout is not a full-fledged backup tool, but more of compliance by Google. Using it to ensure business continuity would be difficult. Another approach is to use a professional and expert-recommended solution that fulfills all the needs of users that Google Takeout cannot.