Can I Recover Deleted Emails from AOL? Updated Guide of 2021
What happens if I lose emails from my AOL account? Can I recover deleted emails from AOL? Are my emails permanently gone or can still be recovered?
These are a few questions we will be answering through this blog. Stick to the end for more information.
Many people enjoy using AOL for excellent email services. However, whether you use AOL or another email service, one risk remains constant: Deleted Emails.
Are you terrified at the prospect of losing your most sensitive emails and not being able to recover them?
Now that you've lived your worst nightmare, you're looking for ways to get your precious AOL emails back.
In some cases, you may be able to retrieve deleted emails from AOL by searching in AOL's "Deleted Files" section, but in others, it may have reached the "Permanently Deleted" stage.
But don't panic; you've come to the right place.
If you delete an AOL email by accident, it will be kept in the Trash folder for 7 days and you can easily recover it from there.
But, if the email has been deleted for more than 7 days, there are still methods to recover it.
Therefore, in this blog, we will walk you through the ways by which you can get back your lost emails.
Methods to Answer "Can I Recover Deleted Emails from AOL?"
There are a few workarounds that can be used to retrieve the deleted data that you will find in the upcoming segments. But, to avoid losing your most important emails even by accident, you should always take a backup of them.
In this case, you can use the AOL Email Backup Software for keeping a copy of all the emails you have on your local device for safe keeping.
Note: In case you are using a Mac machine, here are the links to download or purchase the software.
Now, towards the methods to recover the data.
Solution 1: Retrieve Deleted Emails from AOL from the Trash Folder
When you delete your email(s), whether by accident or on purpose, they are removed from your inbox and sent to the Trash folder.
The deleted emails are stored in the Trash Folder for 7 days i.e. retention period, before being permanently deleted.
This method requires you to open the official site of AOL.
Follow the steps discussed to restore the lost emails from the Trash folder:
1. Begin by visiting AOL.com.
2. In the top-left corner, press the Envelope icon.
3. Sign in to your account in AOL Mail to begin the process of understanding: can I recover deleted emails from AOL?
4. In the left-hand panel, click on the Trash icon.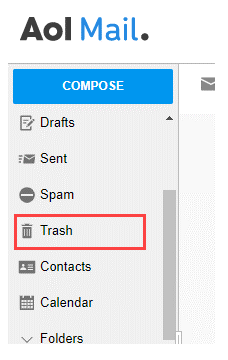 5. The Trash folder will open. Any emails that you have recently deleted will be displayed here.
6. Select the emails that are to be recovered.

7. Click on the Action or More button.
8. From the pull-down menu, select the Inbox button beneath the Move to option.
9. Check to see if the recently deleted emails have been recovered.
If you do not find the required emails in the trash folder, they might have pass the 7 day's period and removed from there.
Solution 2: Can I Recover Deleted Emails from AOL Server After Retention Period?
It has been more than 7 days since you deleted your emails and you now want them back for one reason or another.
How is this possible?
In this case, you must use the server to recover the emails. However, the likelihood of recovery varies in this case.
Here, you need to contact the administrator of the server and he will walk you through the process of restoring emails.
Please Note: Recovering the messages from the email server is a paid service, which can be expensive. Furthermore, if you are an individual user, your chances of success may be low.
Why is it Necessary to Retrieve Deleted Emails from AOL?
Many businesses use AOL Mail as their corporate email platform, which means that the vast majority of their official and important emails are stored in their AOL account.
In this case, if you delete your email, you can recover it from the Trash Folder within 30 days. However, if the email is also removed from the Trash, recovering those emails becomes difficult.
Now that we understand how challenging it is to retrieve these emails, it is vital to keep a backup of all your data on a regular basis.
You can avoid asking queries such as: "Can I recover deleted emails from AOL?" by using the software as mentioned in the beginning. It will download all the email messages in bulk with no loss and the attachments for safety on desired location.
What Measure to be Taken to Avoid Permanent Loss of Emails?
To avoid losing the emails permanently, read the three tips below:
1. Make it a habit to check the Trash folder regularly. Any recently deleted important emails, can be found and restored here.
2. Make it a habit to read your emails before deleting them to not fall in situations to retrieve deleted emails from AOL.
3. Make some alternative folders or labels in your account as per your preference like 'Required Later'. Instead of deleting the emails you can transfer them to this label.
Last Words
AOL Mail is a prevalent webmail application that is used by many corporations. An error can occur at any time and cost you valuable data. Thus, it is important to keep checking your Trash in order to avoid such circumstances.
Hence, we have discussed the methods to answer the query "can I recover deleted emails from AOL". The importance of backing up your data is also mentioned.